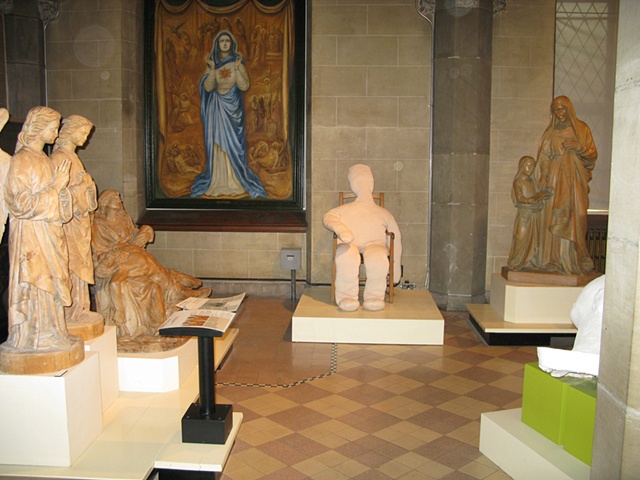 Facing the World as a Mother II /
Faire face au monde en tant que mère II
Textile object/Performance / Objet textile/Performance
doll / poupée 38" x 65"
2008
This large-scale doll was knitted on a knitting machine and dyed a pink/orange skin tone to mimic my Caucasian color. She was meant to represent not only myself but the universal mother image. For this exhibition at The Quebec Craft Museum (Le musée des maîtres et artisans du Québec) I placed her with the sacred objects of the permanent collection. The mother role is no longer limited to the domestic spheres of contemporary life. With this in mind the ideals of yesteryear seemed limiting to my experience.
Cette poupée grandeur nature a été tricotée sur une machine à tricoter et teinte un ton rose/orangé pour simuler ma peau de Caucasienne. Elle devait non-seulement me représenter mais aussi représenter l'image de la mère universelle. Pour cette exposition au Musée des mâitres et artisans du Québec, je l'ai placée avec les objets sacrés de la collection permanente. Le rôle de la mère n'est plus limité au domaine domestique de la vie contemporaine. Avec ceci en tête les notions idéales des années passées semblaient restraintes vis-à-vis mon expérience.