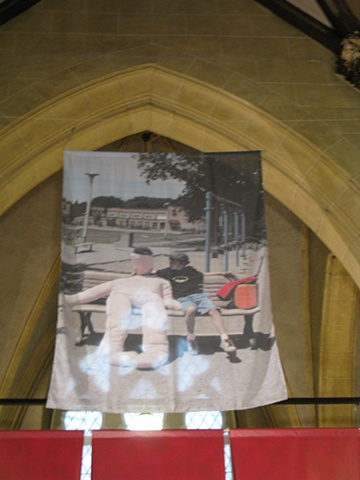 Facing the World as a Mother II /
Faire face au monde en tant que mère II
Textile Banner/Objet Textile/Performance
banner/bannière 52" x 72"
2008
Textile banner with documented image of performances using a large-scale textile doll.
Seven banners of my children's interactions and seven of my interactions with the smaller dolls lined the sides of this former Neo-Gothic church. I appropriated the Fourteen Stations of the Cross, an important journey in Christian traditions. My aim was to replace the images of suffering with alternative images.
Bannière textile avec image de performance documentée à l'aide d'une poupée textile de grandeur nature.
Sept bannières démontrant les interactions de mes enfants avec la grande poupée et sept représentant mes interactions avec les petites poupées ont orné les côtés de cette église ancienne néo-gothique. J'ai approprié les quatorze Stations de la Croix, un parcous important dans la tradition chrétienne. Mon but était de remplacer les images de souffrance par des images alternatives.