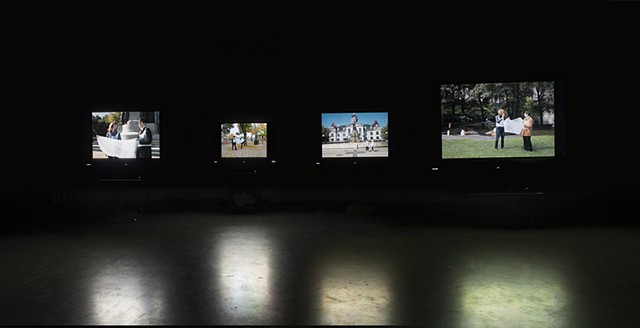 I am interested in the idea of the "phantom" as something that has been made invisible but follows you as a presence without ever interacting with it in an organized way. For me the phantom is a history that follows me through my experiences. The singular landscape of my life has been created by a conscious process. I believe this process has been allowed by memory. Memories are deep connections to other people, places and things. In my person and in my body the memories are stored. My experience is my documented trajectory. The archive of this experience is what I draw on in my art practice. What has preoccupied me of late is how my identity as a contemporary mother is located at the intersection of memory, history and agency.
Laura Endacott has been a part-time faculty member of the Studio Arts Department at Concordia University, Montreal, Quebec for twenty years. Her work has been supported by both The Canada Council of the Arts and Le Conseil des arts et lettres du Québec.
TEXTE FRANÇAIS CI-BAS
L'idée du 'fantôme' m'intéresse en tant que quelque chose qui est devenue invisible mais qui nous suit; une présence constante qui n'interagit pas de façon organisée. Le fantôme est une histoire qui me suit à travers mes expériences. Ce paysage unique qu'est ma vie a été créé par un processus conscient. Je crois que ce processus a été possible grâce à la mémoire. Les souvenirs sont des liens profonds à d'autres personnes, à des endroits et à des choses. Ces souvenirs sont présents dans mon corps et à l'intérieur de ma personne. Cette expérience est mon trajectoire documenté et témoigne de mon expérience. Je fais appel à cette banque dans ma pratique artistique. Comment situer mon identité en tant que mère contemporaine, à l'intersection de la mémoire, de l'histoire et des gestes, c'est ce qui me préoccupe actuellement.
Laura Endacott est chargée de cours au département des Studio Arts à l'université Concordia, à Montréal, Québec, depuis vingt ans. Son travail a été soutenu par Le Conseil des arts et lettres du Québec ainsi qu par Le Conseil des arts du Canada.