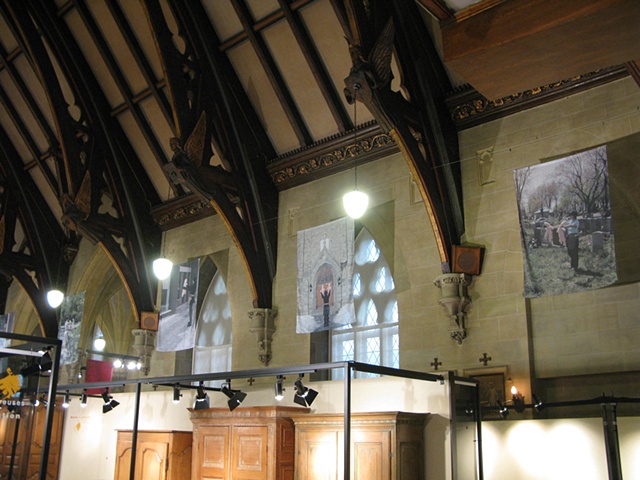 Facing the World as a Mother I /
Faire face au monde en tant que mère I
Textile Banners / Bannières textiles / Performance
2008
Digital print on textile banner documenting a series of performances that explores the contemporary identity of motherhood within an historical, sociological and feminist perspective. This work was exhibited at The Montreal Craft Museum (Le Musée des maîtres et artisans du Québec) from September 24, 2009 to January 10, 2010. Given the Neo-Gothic architectural space of this former church, fourteen banners in total were hung on each side of the museum appropriating the Fourteen Stations of The Cross of the Christian faith.
Impression digitale sur bannière textile qui documente une série de performances sur l'identité maternelle contemporain à travers une perspective féministe, sociologique et historique. Cette oeuvre fût exposée au Musée des maîtres et artisans du Québec du 22 septembre 2009 au 10 janvier 2010.
Étant donné l'architecture néo-gothique de cette ancienne église, quatorze bannières ont été suspendues de chaque côté du musée pour approprier les quatorze Stations de la Croix de la foi chrétienne.